A loyal follower of my blog (the only loyal follower of my blog?) sent me an IM the other day and noted how I haven't written very much lately, following that up with a classic "what gives?" While I haven't given this blog much love, I've actually been writing like crazy lately. At Kapost, I'm a member of our content team, which cranks out daily doses of awesomeness in word-and-picture form on them interwebs. I'm personally responsible for at least one blog post a week for the Content Marketeer, but have also written 14 full-length research articles, and some blog and email content to support some larger projects. As Kapost's Community & Content Manager I write a few hundred unique social media posts a week, spanning Twitter, Facebook, LinkedIn, Google+, & even Pinterest - not to mention hundreds of responses to folks who interact with those posts.
I moderate the Content Marketing Academy LinkedIn group, which means jumping into 10-20 discussions per week - often multiple, thought out comments per discussion with other marketers. I've also written countless email and LinkedIn exchanges, responded to questions, networking & starting conversations on behalf of Kapost. I've been writing an internal social media guide that might actually turn into something larger & public if it's any good. Finally, I've ghost written some social media & blog posts for some folks pro-bono because, charity and stuff.
All of that to say that I've written more since the November 11th, 2013 than I probably have in the past year and half prior. My coworker Ben describes me a "always heads down, silent with my headphones on." While the coworkers who sit next to me might beg to differ on the silent part, the full truth is I spend almost my entire day, from dawn to dusk communicating. Im always talking to someone, even if it's over chat or email or LinkedIn or the tweeter machine. It's exhausting and a bit intimidating to be honest.
A lot hangs on the words I choose, whether they be witty quips on twitter, or a longer form piece on choosing the correct marketing content for various stages of the buying cycle. My job is to drive web traffic, and eventually revenue through things I say to people. That's not to mention creating a wider brand awareness, positive sentiment & hopefully loyalty through things I say as well. This all seems like a daunting task, and admittedly can feel a bit crushing in those weak moments in the wee hours of the night when you haven't slept and you're in the no-mans land of "drank too much wine" and "didn't drink enough wine".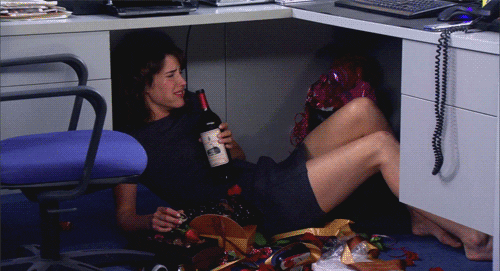 But this post isn't to whine about my workload, because if you know anything about me, you know that I most fulfilled when I'm being challenged, and I'm at my best when I'm stretched super thin. No, this post is to tell you that I'm in awe of the others around me who I see daily thrive in the areas I feel weakest. I work with a special team of people right now and constantly get the feeling that I'm a member of something great and memorable to come.
I'm a die-hard White Sox baseball fan and I remember watching the 2005 World Series champion team come together. A variety of complimentary pieces were added and everything just seemed to gel just right. The team had great talent, but more importantly, great balance. They were built to consistently produce winning results that season, and they didn't do it with the highest payroll or the biggest names either.
I know sports analogies are cliché but I really don't care. I want to believe I'm in the starting rotation of a World Series contender right now.
I'm in awe of our Sr. Managing Editor Anne Murphy. She was the content team prior to October, and her ability to write and edit as much as she does, at the high quality she does, and the rapid speed she does, makes my head spin.  We couldn't have a better center piece to build a content team around. She's led by example in her production, process and demeanor at Kapost. Amidst an often stressful job, she knows how to laugh and make it fun to work around.
Our fearless leader, Sr. Director of Content Marketing Jesse Noyes comes next. He manages to be our GM, Manager, batting coach, pitching coach as well as hitting cleanup in the batting order & playing Gold Glove defense at third base as well. I love his knack for strategy and releasing the next big thing. I admired his early career from afar, so when he called me personally to work for him, it was an exciting honor. I trust his leadership, because I've seen his production in roles similar to the team he now leads. He does a great job of keeping us focused, while encouraging a supportive environment for all of us. Also, he didn't fire me for photoshopping him into a bunch of stuff or turning him into a video game character called Jetpack Jesse.
After snagging me, Jesse went right to work hiring a pair of high energy Content Marketing Managers in Jean Spencer & Liz O'Neill. These two made their impact felt from their first days on the job, picking up some pieces from Anne, Jesse & I while also adding their own creative ideas to the mix. Like Anne, Jean & Liz have a remarkable ability to churn out multiple blog posts in the time I agonize over a few paragraphs. Posts like Jean's A Look at Hiring: What's the Best College Degree for Content Marketing? & Liz's 5 Principles of Highly Effective Content were well received by the intended audiences. They're writing great stuff like that while I'm writing posts called How to Market to Humans. Brilliant stuff, I know. Aside from the content they churn out, these two add a great deal of energy and fun to our group and were quick to fit in and add to our culture and vibe.
Our new videographer Jacob Collins similarly has stepped right in and contributed. He brings a bit calmer demeanor to the group which really helps balance the energy in our area. Though he's still brand new as I write this, we are all excited to add his talents to the mix. I mean, look at the dude's film reel.
Finally, I call out Mark Peck, our stud designer. Mark's been my favorite to work with so far, because he has the reMARKable (get it?) ability to bring our ideas to life in design-form. This predates my Kapost tenure, but the Kapost50 webpage is spectacular, and his recent collaboration with Jesse on a project called "Masters of Slideshare" has been lauded far and wide by the marketing world and received almost 8,000 views on Slideshare in just 3 days, which is 5x the amount of views our most popular Slideshare prior received.
[slideshare id=30350834&doc=mastersofslidesharedeck-140123100234-phpapp01]
Mark and I work very in sync with each other, better than any designer I've ever worked with, which is high praise because I'm fortunate to know a lot of design talent. In our second week of knowing each other we managed to take a funny joke and turn it into a funnier one in the form of Jetpack Jesse mentioned above. Mark did all the heavy lifting and through working with him on a joke project we learned how to work together on real projects. He learned how I thought and how to make things I thought be things you can look at.
Recently, he turned the random scribbles you see from my notebook into the infographic below. It's exactly as I envisioned it and better. This is typical of Mark. He's wowed us all with the things he's created. Also, he puts up with the fact that I pick on him like a little brother, and to date has not yet brawled with me. So, there's that too.
All of this saying nice things about people is important to me, because writing it out here makes me realize I'm in a fortunate place and inspires me to keep up and continually better the content I create. Now if you'll excuse me, it's time to go write a post called "How to Market to Gorillas" and respond to some tweets with pictures of cats high fiving or something.
[slideshare id=30581561&doc=cmalinkedininfographic-140129093426-phpapp01]